The profile on a device is used to influence the behavior of the device itself. In this case, it controls the times when the screen is turned on or off and when the device will reboot. Profiles can be configured under Devices > Profiles: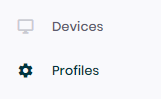 Selecting Profiles displays a list of created profiles. These can be modified or created by pressing the Add button on the top right corner. The screen below will be displayed:

The information that the profile holds are:
Name to distinguish it from other profiles
Screen on/off times based on the content or on specified times
Reboot on a specific time and interval
The screen on/off times are either based on whether the content is currently playing or a specific schedule. A daily reboot is recommended but can be altered if necessary. This will affect all devices that use this specific profile.