It's possible to show content from SharePoint Online within GoBright View. In order to set this up a couple of steps need to be taken within SharePoint Online.
Requirements
A SharePoint Online / O365 admin account
A client ID
A client secret
The tenant ID
One or more SharePoint (team) sites
Within SharePoint
The first part of the configuration will be done within SharePoint Online. Make sure that you are logged in with an admin account so the correct permissions can be granted.
Login to Sharepoint Online
Create a client ID and Secret
To connect with SharePoint Online we need to register the application.
Set permission for the specific site
We'll need to allow GoBright View to access one or more specific pages. Note that this process must be repeated for each site that needs to be displayed.
Go to the following site using your site

name

within the brackets:
https://[NAME].sharepoint.com/_layouts/15/appinv.aspx

Fill in the Client ID that just has been generated within the App ID field


Press Search and the created registration should be visible
Next underneath Permission Request XML copy the following part:


<AppPermissionRequests AllowAppOnlyPolicy="true">
   <AppPermissionRequest Scope="http://sharepoint/content/sitecollection" Right="FullControl" />
</AppPermissionRequests>


The app now has the correct permissions. Note that you need to repeat this for each individual site that needs to be displayed. Press the Create button to continue:

Press the Trust it button to finish setting up the permissions
Get the Tenant ID
This can be found in multiple ways, but the easiest way is to open an incognito window, go to https://login.microsoftonline.com, enter the username of your O365 account, click next and look at the URL at the top of the screen. The tenant ID will be displayed between login.microsoft.com/ and /oath2.

That's all the information we need from SharePoint, now let's head over to GoBright View.
Within GoBright View
Fill in all the information that we've gathered above in the SharePoint widget.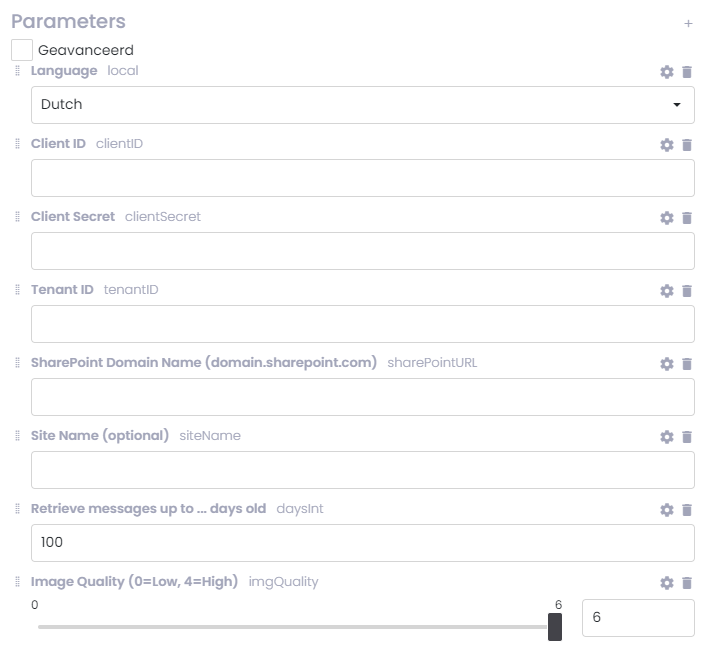 After this information is added you should see the information from SharePoint. If Site Name is left blank it will show information from the main SharePoint page.
Note that only a single SharePoint Teams site can be entered per widget. If you want to display multiple sites you can add another widget with a different site.
Add SharePoint News items or Site Pages
At least one news item or site page must exist. Otherwise there is nothing to show within the widget.
To add a news item or site page, head over to SharePoint and click + New. Then choose News Post. Follow the wizard to add a post.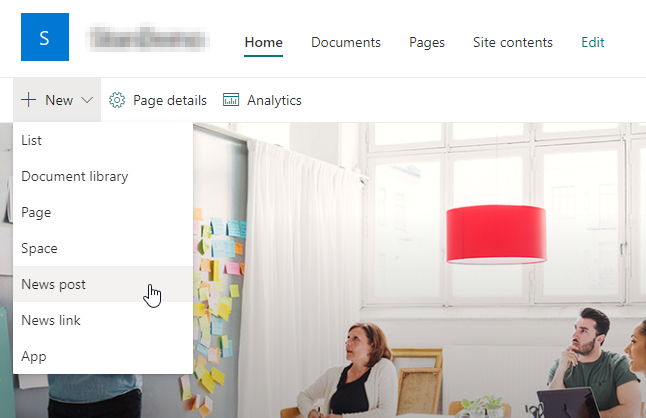 The title, page description and thumbnail image will be shown within the GoBright View Widget.
To edit these fields, open the Page Details panel. Click Update News if you are done.
The SharePoint Widget within GoBright View automatically updates when a post in SharePoint is added or updatet. There is no need to update the widget within GoBright View.

Note: SharePoint will use the first text of the page as description automatically.